The most versatile, dynamic cover band in the San Francisco Bay Area!
"Anybody who has seen this 3-man band before knows that every time they play they blow the roof off the bar."
– Mick Graham, Owner
     Maggie Mcgarry'S, San Francisco, CA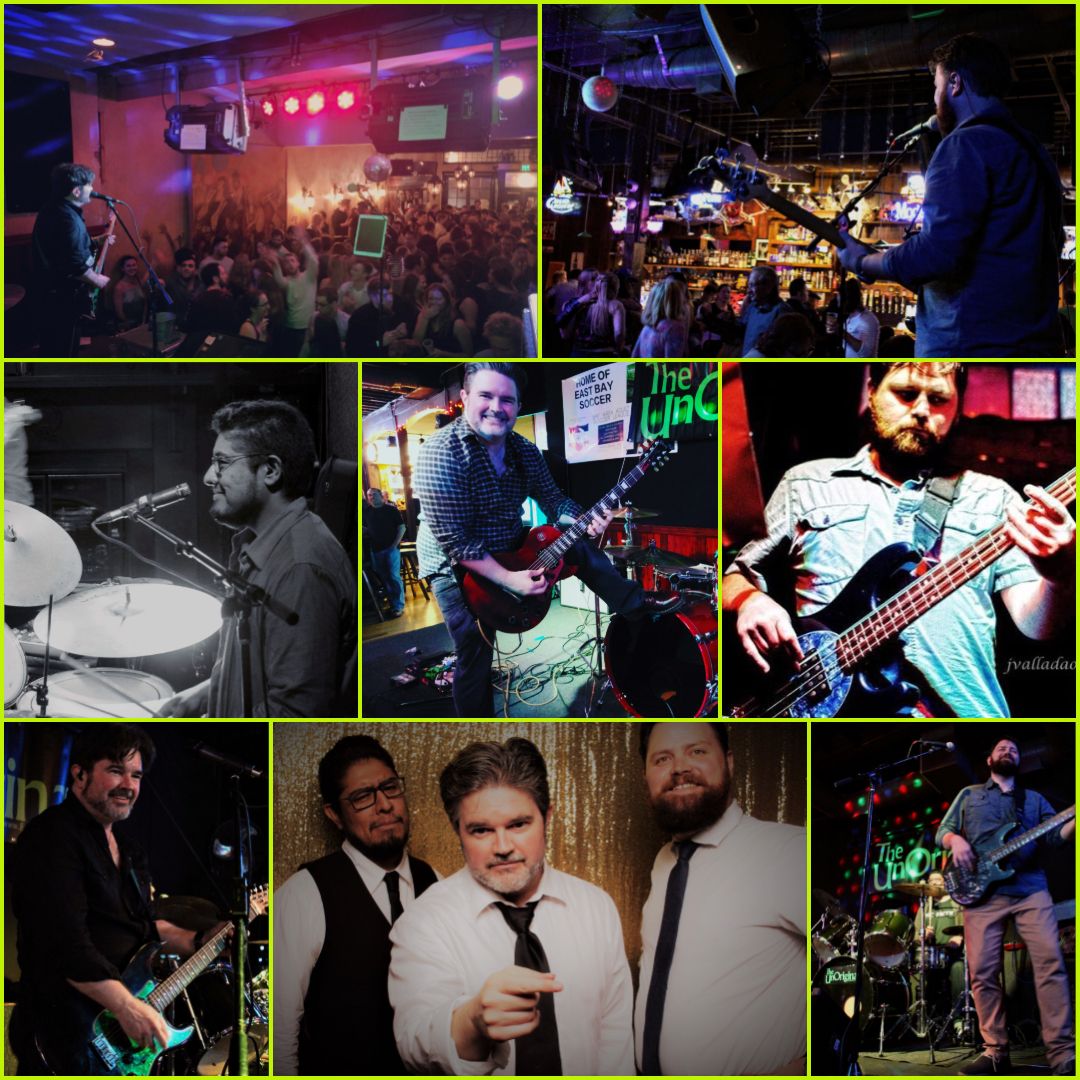 -----------------------------------------------------------------------------------------
   The UnOriginals are a dynamic 3-piece cover band hailing from Concord, CA.  Featuring  the talents of multi-talented Xavier Guerrero (Black Box Radio, Spirit Drive) on drums and vocals, the groovy, funky bassman Tom Davis (Space Monkey Gangstas, Radiokeys), and energetic frontman Timmy G  (also of Fast & Vengefully, Dueling Guitars) on shredding lead guitar and soaring vocals. This band delivers a wild party band experience like no other, and they do it with only three dudes!
 The band boasts a diverse and varied repertoire of music ranging from the 50's to today, from Chuck Berry to Muse, from The Doobie Bros to Sublime, from The Commodores to Prince to Guns N Roses!
 The UnOriginals rock at fine establishments such as Maggie McGarry's in SF, Johnny Foleys in SF, Meenars in Danville, E.J. Phair in Pittsburgh, Vinnie's in  Concord,  Dan's in Walnut Creek, The Iron Door Saloon in Groveland, and many others, and are also available for private events (weddings,  birthday parties, etc).
Check out our up-to-date song list here!
Here's our EPK Promo Video:
Here are a few more promo videos for you to enjoy - click the top left corner to view the entire playlist!
Like The UnOriginals on Social Media!!!
"

The UnOriginals played at my wedding last year. Timmy G was always available in the months leading up to the wedding to plan with me and talk about details including songs and preferences that I had in mind. He made me feel comfortable and took my ideas into consideration and also gave me feedback since he's the professional. The band was enthusiastic throughout the reception and got the guests dancing and feeling good. Timmy G also played acoustic guitar for me as I walked down the aisle which was very special. All the band members came dressed up for my wedding and looked amazing! I would definitely hire them again for another event and I highly recommend them ❤️" - Sherry Z
"

I first saw the Unoriginals perform at Meenars, a bar in downtown Danville. They played a variety of genres, and their positive vibe had the packed room dancing until last call. That's when I knew we had to hire them for our annual HOA block parties. We've had them play for our neighborhood for the last three years. This last time we hired them was actually when we were most impressed by their skills. Prior to the event, we emailed them our song requests, some from their extensive set list and others not. The band surprised us by playing everything we requested from their set list and learning a few new songs just for us. Everyone had a great time at the block party, and the band is now like a part of our neighborhood. We will definitely be hiring them again next year!" - Jenny C
"

Best. Wedding Band. Ever. This group is amazing. They completely tailored their set list to what I wanted. My husband and I are 80s fanatics and they had SO many cover options. They even included a special song for us and let us come up and sing with them. I received compliments from everyone there and they truly made our wedding a blast. I would recommend them to anyone for any event. This group is lively, interactive, upbeat, and most importantly on key! Thank you guys for the awesome performance." - Debbie H
"

Great Wedding Reception Band The Unoriginals really brought great energy to our wedding reception. All of our guests were on the dance floor for the entirety of their two-hour set. Their set list is laced with hits, so everyone was singing along, dancing, and having a great time. We had so many compliments from our guests after the wedding, and the band was one of the common themes that everyone commented on. Tim and crew even played acoustic during cocktail hour, which was a nice lead in to the evening. Having the Unoriginals at the reception was WAY better than a DJ. Would definitely recommend hiring this band for your wedding if you're looking for an upbeat, energetic, and fun reception. You won't be disappointed!" - Paul S