Top-tier entertainment for weddings, events, restaurants, small clubs, etc!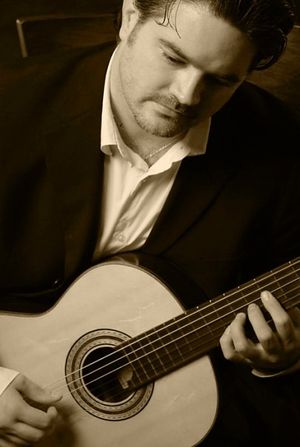 As well as playing on various projects and combos, I play a good amount of gigs as a solo performer.  I perform at restaurants, wine bars, weddings, and other social functions.  I can function as an entertainer, taking song requests, interacting with the crowd, and keeping people engaged and happy.  To this end, I can draw upon my extensive catalogue of popular cover tunes, which I am constantly updating.  I enjoy playing to the crowd, and anticipating their next request.
I can also function as instrumental background music, leveraging a wide array of musical styles from classical to jazz to my favorite, "flamenco fusion".  (For a sample of this style, check out the video below, which consists of all-original compositions in this style).
Finally tying the knot with your special someone?  Need quality, professional entertainment to complete your magical evening?  Need a self-contained professional musician with excellent chops, a wide repertoire and a knack for entertainment? Please don't hesitate to contact me!  I am always flexible and can tailor my material to suit your needs... let's talk!   
Here is a playlist of cover tunes I do (be sure to click the menu on the video at the top right hand corner to see the full playlist!):
Here is a sampling of some of the classical-style pieces that I do:
Finally, here is a playlist covering a variety of instrumental tunes that I do:
Any combination of the above is available... contact me and let's discuss!!!